Contoh Soal Review , Jobs and Qualifications in Vacancies - Have you learnt the previous topics about job application? Do you still remember about kinds of jobs vacancies? Can you make your own application letter well? Can you compose your CV to enclose your application? And do you have any idea on what skills you are going to have in the future to compete in the 21st century?

We are going to review all above topics about jobs and qualifications in vacancies. At the end of the topic, you are expected to understand well about jobs and you can prepare it well start from right now.
Look at the following situation
Rina needs a job and fortunately there is job recruitment in her city. She reads the vacancy and she wants to apply for the job on it. So she prepares everything and composes application letter and CV.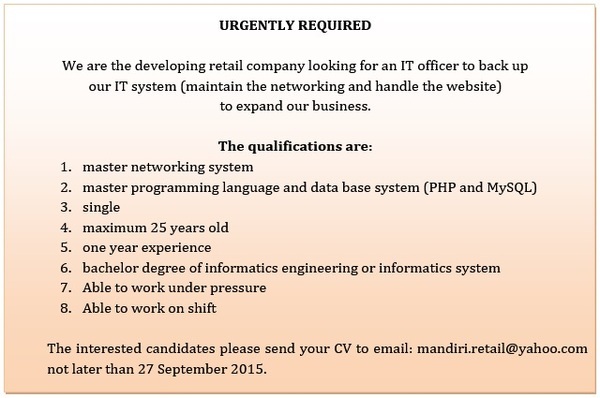 The common parts/ generic structures of job vacancy are: title, purpose, qualification and address/contact.
You can get a job vacancy from various models like through job recruitment, job fair and walk-in interview.
After reading the vacancy, Rina writes an application letter.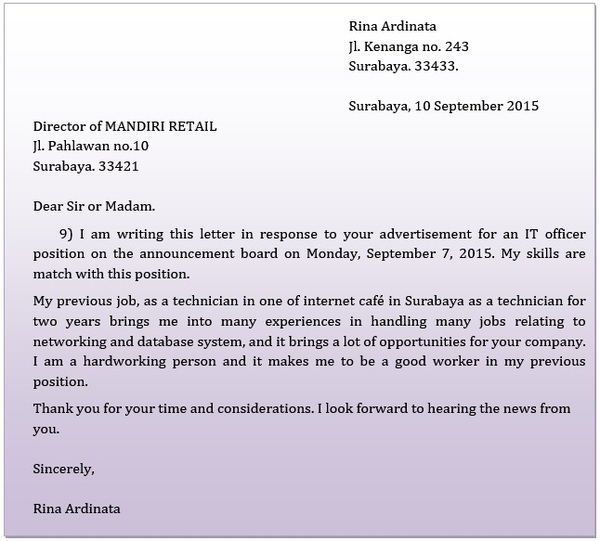 Remember the parts of the application above, those are: sender address, date, company address, salutation, opening paragraph, body, closing paragraph and closing.
Then, Rina also composes a CV to enclose it to her application letter.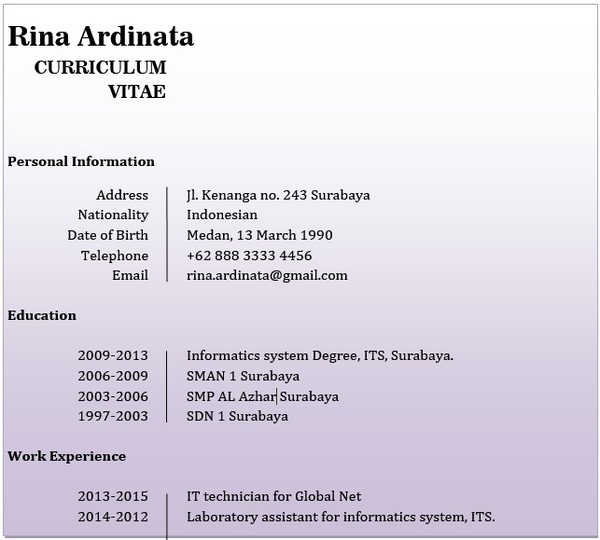 Pay attention to the common structures in composing CV like: the applicant's name, recent photograph, contact details (telephone, mobile, email, address, fax), educational backgrounds (formal, informal, seminars, training, awards/ achievement) and professional experiences.
There are many information to be mentioned in CV. One of the following is not required in a CV, which is ....
Below are the generic structures of composing application letter, except .…
For the following text, fill in the blank the questions number 4 – 5.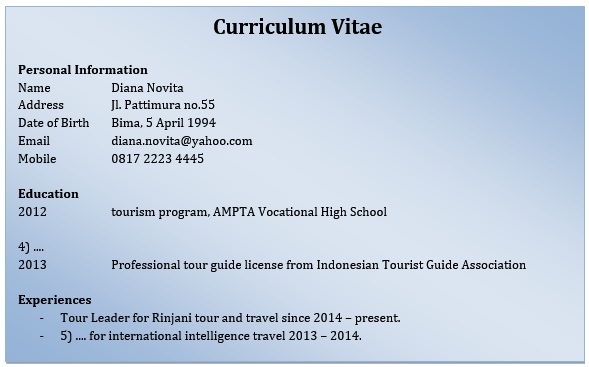 The right option to fill ******the blank is ....
Rearrange these jumbled words into a good sentence.
my

1

– writing

2

– I

3

– interest

4

– to

5

– secretary

6

– express

7

– am

8

– in

9

– a

10

– position

11
For the following text, fill in the blank the questions number 4 –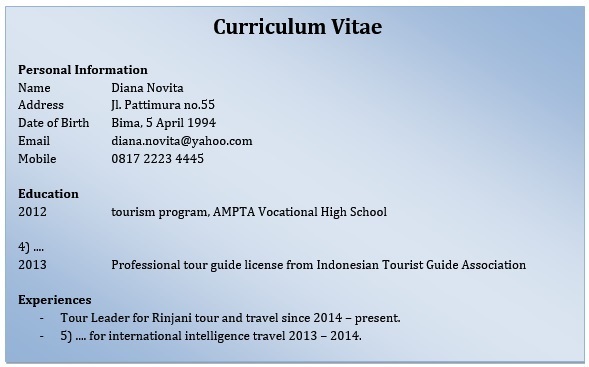 The blank should be filled with ....
The correct arrangement of the jumbled sentences above is ….
The correct part of CV that represents the applicant's experience are ….
This video is for question number 8-10
The company needs a worker in the position of ….
This video is for question number 8-10
To get further information, the applicants should ….
This video is for question number 8-10
The INCORRECT qualification of the job vacancy above is ….